I am reposting this piece I did back in 2012 to see if I can dig up anything further on the Sayman. Have you ever passed The Sayman on you journey through the Missouri Ozarks?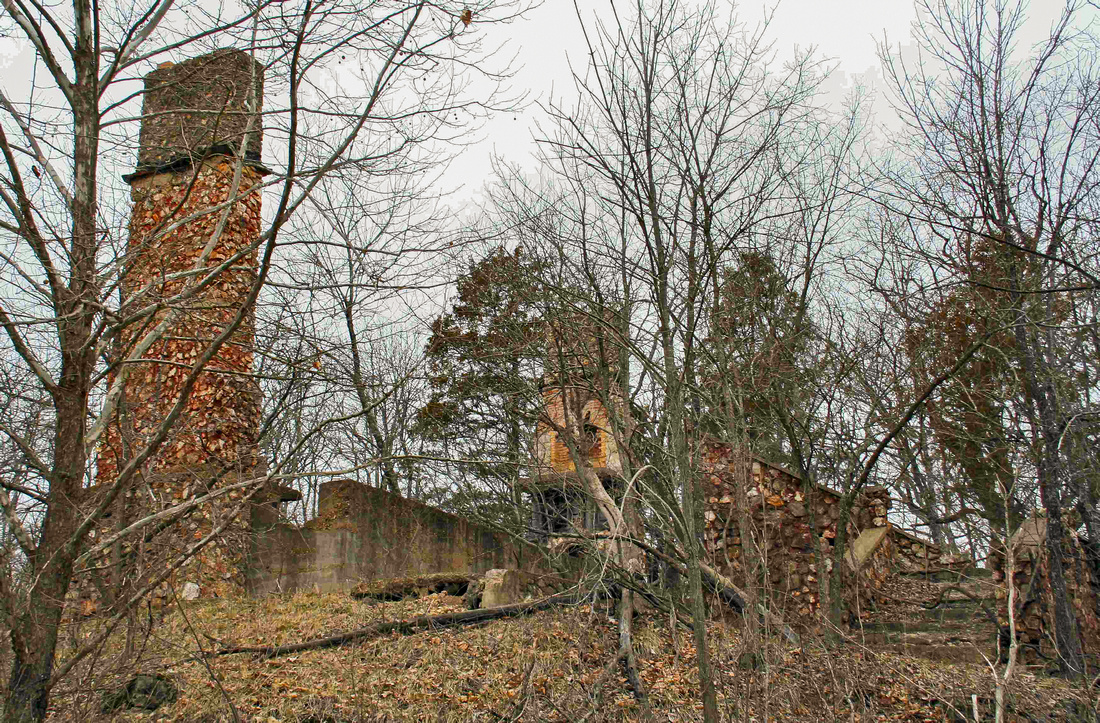 In 2006 I stumbled upon a site of ruins just outside of Sullivan, Mo. The place was intriguing and left me full of questions. I love history, old architecture, and certainly exploring.
The ruins stand on a hill within the confines of Meramec State Park at a T- junction, just off of highway 185, a short distance from the Meramec State Park Visitors Center.
At the time I first visited there, there were no markers to indicate what the structure had once been. No old mailbox to mark the address, no inscriptions in the foundation; nothing.
Climbing to the top of the hill I had discovered what must at one time have been a grand mansion. Or so it would seem.
The site was terribly overgrown and it was apparent it had been vacant for some time. No one had taken the time or care to remove trees that sprung up close to the foundations. There was no worn path to indicate it was a place where people explored.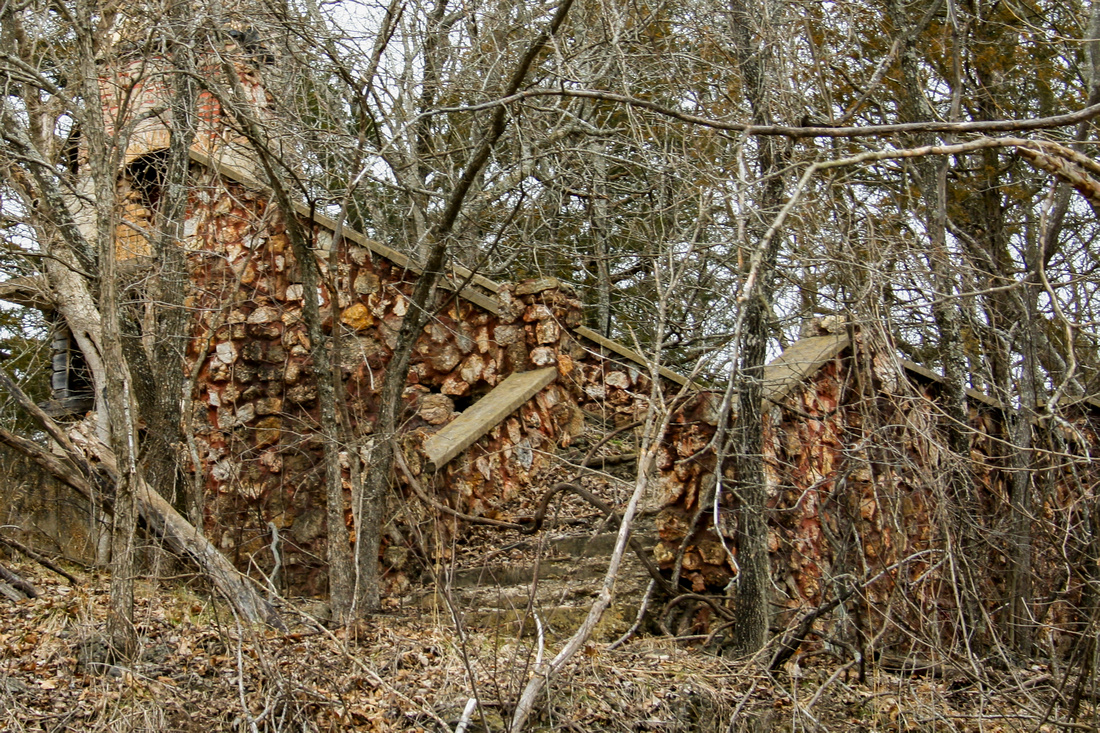 Strange to me was the location, out in the middle of nowhere in the Missouri's Ozarks, the closest township miles away.
Ever stranger was my obvious fascination with the site. Although not much was left standing, I must have spent at least two hours roaming around the place in wonderment and snapping images here and there.
Someone with money and influence had built this structure. The average country folk could not have afforded such a homestead in the time in which it was built. I estimated early 1900's.
But who would have built such a monstrosity out in the middle of nowhere only to leave it in such ill repair? Sure it was a great place at once time. A place worth preserving.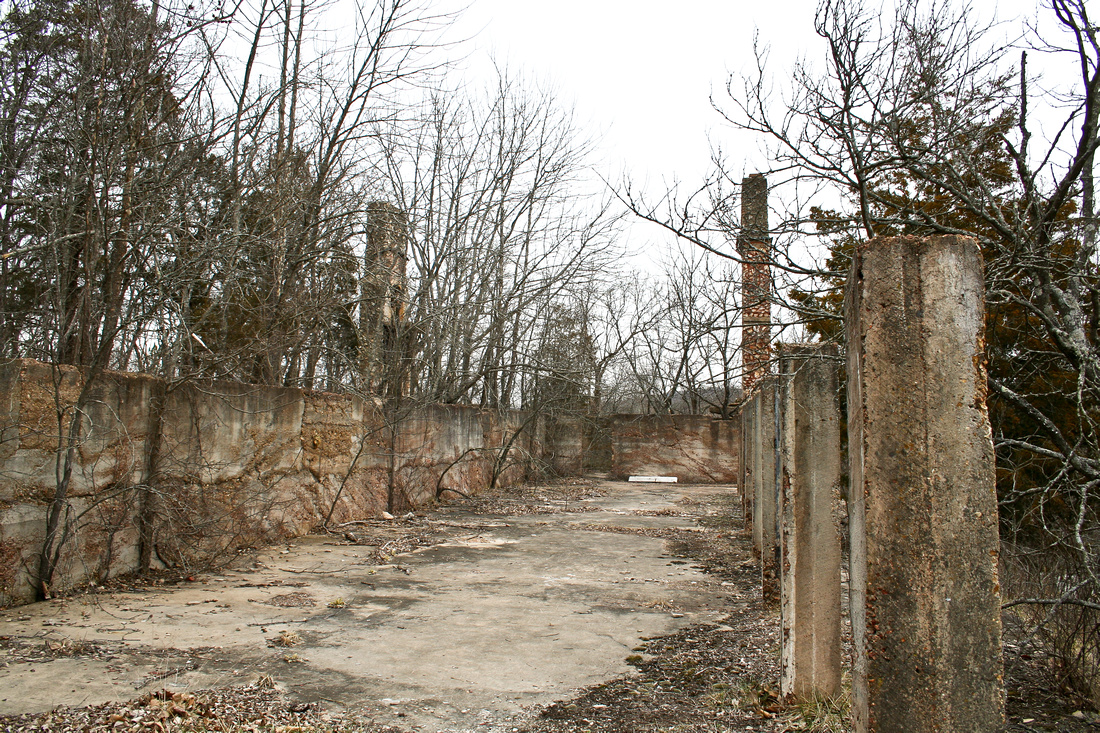 What would it have looked like in its heyday? How many rooms did it once contain? How many horses might have been boarded within its stables? How many people had lived here? What would the interior have looked like in a home of such size and grandeur? What year had it been built? When had it fallen in ruin? Had there been a fire?
The truly pressing question for me, was why had no one ever rebuilt on this site?
It was a fabulous location, atop a hill, just a stone's throw from one of Missouri's most beautiful river ways. How and why had it come to such overgrown ruin?
Click images to enlarge.
Fast forward 6 years
Recently renewed interest in the site led me to do a bit of research and I was able to find out a little about the place. I am told there is now a nice historical plaque present at the base of the hill. The marker was placed just after I visited in 2006.
I found out the the property and ruins actually do have an identifying name, The Sayman Hotel, a name derived from the man who originally built the place and the purpose for which he had intended. Thomas "Doc" Sayman of Sayment Investment Company. It was not originally intended to be a home as I first thought, but a hotel or resort.
An internet search turned up relatively little about the ruins themselves, or about the 30 years I had found out the place was actually occupied by a family. So I started making phone calls and sending requests to the area's historical societies, libraries, and other organizations. Still not much came out.
I spoke with Brian Wilcox, naturalist for the Meramec State Park, and he was kind enough to share insight he'd gotten from an interview he'd done with Connie Pullium in the late '90's.
Mrs. Pullium was the property's last individual owner. It was she who had lived in the home for 30 years.
I inquired about any photos she might have of the Sayman, and Brian Wilcox said he too had inquired, but Mrs. Pullium stated such images did not exist.
Now while I realize the average person doesn't take pictures in the abundance that I do, but I find it peculiar that a woman who lived in a home for 30 years would not have one single image of the place, indoors or out. No photos of picnics on the lawn, no images of horses that surely ran the property at one time, no gardens or tree swings, no holiday shots, family portraits. Nothing. I'm blown away by this as you can image.
–If anyone reading this has images of the Sayman Hotel when it was being lived in, please contact me)
The timeline I ended up with
In 1928 an unknown owner of the property began construction of a grand hotel overlooking the Meramec River Basin, a picturesque place of solitude, far removed from city life.
In late 1928, with the onset of The Great Depression, the owner found himself in great financial distress and filed for bankruptcy, causing loss of his partially constructed hotel.
To recoup some of the loss, contractors working on the hotel dismantled the structure, selling off everything they could salvage from the site, leaving the property in ruin. All that remained was the foundation and chimneys.
Sayman Investment Company, owned by Thomas M. Sayman of St. Louis, purchased the property in 1931 through public auction.
Sayman's intent was to complete the structure and make a resort of the place but he ended up dying at age 84 before he could get the hotel completed.
The property was left in ownership of Sayman's second wife Luella Sayman, who maintained ownership for approximately a year and a half after her husband's death.
She later sold the property, not wishing to pursue her husband's dreams of a grand resort in the remote countryside. She was a city girl, and preferred her St. Louis home to the solitude of the Missouri Ozarks.
The property changed hands several times before it was finally purchased by and unknown man and Connie (later to be Pullium). It's not yet been discovered what Connie's first husband's last name was when they purchased the property in 1941.
–If you are from the area and have information please contact me
Still basically in ruin for having never been completed, Connie and her first husband (name unknown) finished off enough of the structure to make a comfortable and spacious two story home. In doing so they only completed one third of the originally size intended for the structure.
The Pullium's lived on and maintained ownership of the property until 1971 when the place was sold to the Army Corp of Engineers during the beginning of the Meramec Dam Project.
The structure was once again dismantled, this time by the Corp, stripped down to the remnants that we see today.
It is uncertain why the Corp did not leave the home intact and use it for some civic building on park grounds.
Once source indicated that there was a fire at the ruins at one time but I have not been able to verify this.
There are relatively few images of the structure to be found even as it stands today. I have more images of the place myself, than can be found on the internet or in libraries and historical societies around the area, at least thus far. I am still on the hunt. Do you know where I can find images of The Sayman Hotel)
During my search I have not been able to find a single image of the property as it looked during the 30 years it was a family home.
To me this lack of images just creates additional mystery to the property that has for some time held my interest.
I just know there must be images somewhere of such a grand home that was lived in for three decades. If they are out there, I will eventually find them. If you have some, please let me know.
*_____________________________________________________________________________________________________*
If you have any information or comments about this post, please leave them in the comments below.
IF YOU HAVE ACCESS to any photographs of The Sayman Hotel when the structure was intact, please email through the contact page on my website.
_______________________________________________________________________________________________________
Thomas Sayman, the second owner of the Saymen Hotel was quite a character. He started out poor, worked his way into a lucrative business stature, and let quite a colorful life.
Around the same time he purchased the hotel, he bought a couple thousand acres of prime river front property. He later donated the property to the Missouri Parks Systems.
Read more about Thomas Sayman and the Parks surrounding the Meramec river basin, at the links below.
http://mostateparks.com/park/roaring-river-state-park
http://www.missouritrout.com/roaringriverlinks.html
http://thelibrary.org/lochist/periodicals/wrv/v5/n12/s76c.html
https://www.findagrave.com/memorial/33894362/thomas-m-sayman
Comments from my previous blog post about the Sayman
Angela Pulliam Potter is a descendant and has some interesting information to share.
Faith Dunn(non-registered)
My dad told me that somebody from Barnum and Bailey Circus had something to do with this place.
He grew up around Meremec State Park area.
---
26-Apr-19 04:45
The place you are mentioning on your blog is very beautiful and historical. As I have read your content and it shows that you are very interested in a historic thing that is very interesting and adventurous too.
---
7-Jan-15 14:43
Angela Pulliam Potter(non-registered)
Constance (Connie) Blossom Pulliam (correct spelling) was my step-grandmother. My brother, Doug Pulliam, and I played in the ruins of the Sayman Hotel throughout our childhood.
According to some documents my grandmother gave me, construction was started by W.N. Bennett in 1929. The Sayman Investment Company purchased it later that year, possibly as a summer resort for the employees. The hotel was described as a "two-story frame building with asphalt roof and concreted foundation, a concrete basement with outside walls furnished in oak slabs." The building had a spacious lobby, several fireplaces, and twenty-seven baths. Because the building was insulated with straw it was considered a fire hazard. The wooden portions were removed for safety reasons.
I'm not sure who wrote down this information or when because there is no date or signature on the document. Your information about the purchase of the hotel may be the correct account.
What I do know, because I have the deed of trust that Connie gave me, is that her first husband's name was George Hoffmann and he and Connie purchased the property in May of 1944.
When I arrived on the scene in 1954, the home was a one story shotgun style home. I remember having to go through the bedroom of Connie's mother, Alma F. Fleckten Binfield, to get to the back of the house.
Connie's second husband was my paternal grandfather, Arna Frank Pulliam. They married on May 10, 1950.
I have some photos of the outside of Frank and Connie's home. I wouldn't describe it as a "grand home", however. It was a comfortable home with a big living room with a fireplace and windows looking toward the river.
My grandmother was an amazing cook. She won a pink range in a Pillsbury bake-off in 1956 in New York City. She was also a writer and won some prizes for writing advertising jingles.
Angela Pulliam Potter
---
24-Sep-12 13:45
So glad that you both enjoyed the blog.
Rob, I am tickled it's inspired you to check it out for yourself. It's an amazing place and even a bit mystical. It definitely drew me in and got my attention.
Christy, I thoroughly enjoyed the research on this place and think it's wonderful you took your children out to explore on their own. Children need a good adventure now and again!
---
24-Sep-12 02:09
Christy(non-registered)
I find this absolutely fabulous that you found out what you did about this area.. we've also passed by this a few times, gotten out to look once before. My children ages 6, 4, and 3 were extremely interested in seeing this up close.. so we took a family walk to the location. Your pictures are a lot clearer than the overgrowth that's currently covering it. Thanks for sharing what you have found out, because this was definantly a mystery adventure our family embarked on. (And happily, this was away from the TV which is always a blessing!)
---
18-Aug-12 16:05
Rob(non-registered)
I have visited Meramec State Park many times and have driven past the remains of the old "hotel" often and have never taken the time to walk up and explore. Thank you so much for researching this mystery of Meramec and providing an interesting tale and great pictures. I will definitely make an effort to explore myself next time.
Feel free to leave your comments about the Sayman in the box below.
Thanks for reading!