Trying to keep up with news in today's world is difficult at best. It feels like everything is coming at us from all sides.
With a barrage of certain change coming to almost ever aspect of our lives in the coming weeks, months, and years, the best thing we can do is stay informed. That means everyone needs to find reliable sources of information and keep up with them; connect with them directly because censorship is growing by the day.
People ask me all the time where I get information. If you are one of those people, just follow the clips, links, and videos I share and you will see where my information comes from. Within those writings, video and audio clips, you will find other truth tellers to keep up with as well.
Follow these people, websites, etc. Sign up for email notification to their content. There will come a time you are pleased that you did.
---
Three More Hunter Biden Attorneys Quit, Bringing Total To Five
BY TYLER DURDENSUNDAY, AUG 20, 2023 – 10:00 AM
Three more of Hunter Biden's attorneys have filed a motion to withdraw from his ongoing case, after a Delaware judge dismissed his two tax misdemeanors without prejudice at the request of DOJ prosecutors – a move which will allow for the possibility of charging Biden in Washington DC or the Central District of California.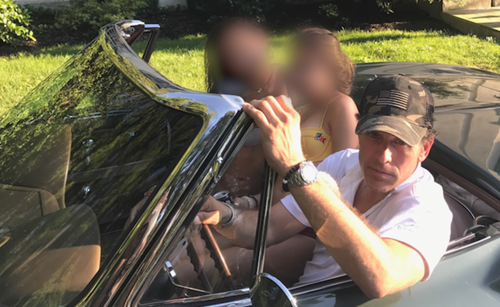 Mrian C. McManus Timothy H. McCarten and Matthew S. Salerno of Latham & Watkins LLP filed a motion to withdraw as counsel following US District Judge Maryellen Noreika's decision to grand the DOJ's request.
---
Biometrics ID Coming to Social Media
Read all about it.
From PC Magazine:
https://www.pcmag.com/news/verifying-your-identity-on-twitter-will-require-taking-a-selfie
From Tech Times:
https://www.techtimes.com/articles/295270/20230817/x-id-verification-coming-soon-analyst-claims-needs-government-live.htm
From Techlusive:
https://www.techlusive.in/apps/x-twitter-to-introduce-id-verification-to-tackle-ai-bots-and-prevent-impersonation-1399644
Mary Campbell@MaryCam17021316 Very important this "biometic ID." They tried to tie it to the jab and that didnt work so well. Now it's tied to cheaper bread. People can still buy bread without but at inflated prices. This is Iran. Read your bible because the mark is creeping closer. https://youtu.be/CPPQ2X8VoRQ
---
Damning Life Insurance Data Proves Far More Young People Are Dying — And It's Not from COVID
When data speaks, we must listen. And statistics from the Society of Actuaries reveal a harrowing health crisis in the American youth.
THE VIGILANT FOX AUG 19, 2023
Originally Published on Vigilant News
When data speaks, we must listen. And statistics from the Society of Actuaries reveal a harrowing health crisis in the American youth. While most of the attention has been directed towards the COVID-19 pandemic and its consequences, there's an underreported situation emerging — a rise in the mortality rate of younger individuals. Disturbingly, these figures can't solely be attributed to COVID-19 — far from it.According to the data reported by the Society of Actuaries, which conducts research for the insurance industry, there is a concerning trend in deaths among the young. Much of this data comes from the US Centers for Disease Control and Prevention (CDC), which has limitations with respect to data collection and transparency.
---
Interview with Dr William Makis | Vaccine injuries, Turbo Cancers & Spike Protein Detox
---
Joe Biden (AKA JRB Ware) Facing 'Inferno Of Allegations' – What's Next?
Multiple aliases exposed
By Paul Crespo-August 19, 2023 .\
CommentaryDefense NewsNational Security
ANALYSIS – If you only followed establishment news, you would think that only former President Donald Trump is in a heap of legal trouble. Well, regardless of whether Trump's legal woes are justified or a witch-hunt by a weaponized Department of Justice (DOJ) and politicized local prosecutors, he isn't the only president in increasingly hot water.Whether it's through his son Hunter, or by his own doing, Joe Biden is also facing what one congressman called an "inferno of allegations."Pennsylvania Republican and House Oversight Committee member Scott Perry said on a Newsmax TV interview on Thursday that where there's smoke there's fire, and Joe Biden has "gotten himself into an inferno of allegations and credible claims of influence peddling that seems like it's filled with probable cause."Newsmax reported:
Perry made the comments on "Rob Schmitt Tonight" in a discussion about the president's use of at least one email alias when he was vice president. The Oversight Committee has demanded that the National Archives turn over unredacted material related to the alias and its use that overlaps with Hunter Biden's time in Ukraine."I think it's really long past time where the Oversight Committee and the Congress itself to play hardball with these agencies that somehow think that this information that belongs to the American people somehow solely belongs to them as though it's their personal possession," Perry told Schmitt.
Joe Biden's use of email aliases during his time as vice president is the latest bombshell to come from investigations into Hunter's shady foreign business deals.
---
Why Do Leftists Support Billionaire Oligarchs?
Understanding a strange and seemingly paradoxical relationship.
For a long time I have been puzzled about why the cultural and political Left has—in recent years—passionately embraced the Military-Industrial-Bio-Pharmaceutical Complex, and gleefully favored all of the centralized control measures imposed by the billionaire oligarchs who control the Complex and profit from it.
Before the pandemic, people who identified themselves as "Liberal" seemed to favor things like free speech and were suspicious of Big Pharma and military adventures abroad. With the arrival of COVID-19, most of this cohort seemed to do a perfect about-face. A strange and strangely consistent feature of their belief system is a twin embrace of COVID-19 vaccine orthodoxy and Ukrainian War orthodoxy. The same people who were terrified of COVID-19 and insisted that everyone be locked up and receive an experimental injection, were wildly in favor of war with nuclear-armed Russia over Ukraine—a country they knew nothing about.
Continue reading (you can also listen to this article on audio at the link)
Shared in the article is a link to Understanding The Parasitic Cooperation Between Globalists And Leftists
---
Energy group drops study on how Inflation Reduction Act has benefited Communist China
Biden, the group laments, "is dangerously increasing America's dependence on China."
By Addison Smith
Updated: August 16, 2023 – 5:32pm
A year ago today, President Biden signed the Inflation Reduction Act into law, which included a whopping $369 billion for climate and energy spending. On this anniversary, the pro-fossil fuel group Power the Future published a study showing how this money has "enriched" Communist China.
The 14-page report, titled "Where Green Meets Red: How the Environmental Agenda is Making America Dependent on China," details the horrific conditions that EV material miners—which include tens of thousands of children—are routinely subjected to in areas like the Congo, where China owns many mines. It also notes that China may control as much as 80% of the market share in "the production and processing of energy minerals needed to build renewable machinery, providing a strategic dominance roughly double OPEC's market share in oil."
"The Biden Administration's push to electrify nearly every facet of everyday life – power plants, cars, the heating and cooling systems in homes and buildings – is dangerously increasing America's dependence on China and jeopardizing our nation's security," the report states, going on to propose five steps to buck Biden's "Green New Deal." These include:
Passing Sen. Barrasso's "Supporting American Independence in Innovation Act"
Ending Biden's ban on mining
Enacting permitting reforms to bolster mining production
Shutting down Biden's EV mandates
Barring China-based companies from receiving IRA tax credits.
In a press release, Power the Future President Daniel Turner fumed at Biden for giving the CCP a "record-breaking payday" through the IRA.
---
---
Widely relied-on estimate of plastic dumped yearly in oceans off by "magnitudes", new study says
A 2015 study, now apparently shown as inaccurate, has been cited frequently by media, government officials and environmental organizations over the years as the "conventional wisdom"

By Addison Smith
Updated: August 14, 2023 – 11:31pm
It has been repeatedly stated as fact that "8 to 10 million metric tons of plastic are dumped into oceans" every single year. However, according to a new peer-reviewed study in Nature Geoscience, that's 7,500,000 metric tons off the mark.
The study, published this month and titled "Global mass of buoyant marine plastics dominated by large long-lived debris," used "observational data" from coastlines, the ocean surface, and the deep ocean to conclude that the amount of plastic pouring into the oceans every year is about 500,000 metric tons. The researchers' abstract said that "recent estimates of the oceanic input of plastic are one to two orders of magnitude larger than the amount measured floating at the surface."
Though this may still sound like a lot, but a widely relied upon 2015 study overshot the "accepted" number by a whopping 1,600%.Referring to the data cited from the 2015 study led by Dr. Jenna Jambeck from the University of Georgia, the new study explains that "This discrepancy could be due to overestimation of input estimates, processes removing plastic from the surface ocean or fragmentation and degradation."
The 2015 study with the now-challenged estimate was been adopted as authoritative by a range of media outlets, environmental activists and government agencies.
---
Under New 'Medical Misinformation' Policy, YouTube Will Delete Content That Contradicts WHO Guidance
YouTube on Tuesday announced updates to its medical misinformation policy, tightening restrictions on what it described as "harmful" claims about COVID-19, vaccines and cancer treatments, but critics said the tech giant lacks the expertise to make these judgments and its plans to restrict such content could violate people's civil rights and stifle scientific debate.
By Michael Nevradakis, Ph.D.28
In what one critic described as a "substantial escalation" in YouTube's "crusade against … medical misinformation," the social media video platform on Tuesday announced updates to its medical misinformation policy, tightening restrictions on what it described as "harmful" claims about COVID-19, vaccines and cancer treatments.
According to Reclaim the Net, YouTube's new policy is an expansion of the platform's existing COVID-19 misinformation policy and is intended to cover what it calls "all forms of medical misinformation.
"Under the new policy, YouTube "will streamline dozens of our existing medical misinformation guidelines to fall under three categories — Prevention, Treatment, and Denial."
"These policies will apply to specific health conditions, treatments, and substances where content contradicts local health authorities or the World Health Organization (WHO)," YouTube stated.
YouTube said it will implement its new policy when a topic exhibits high public health risks, is supposedly prone to misinformation, and when official guidance from health authorities is accessible to the public.
Proponents of the new policy said it will help YouTube better police harmful information and provide clarity to users as to what content is — or is not — allowed on the platform.
According to ZDNet, "YouTube's battle with medical misinformation isn't new; the platform has previously been in the spotlight for removing videos touting COVID-19 misinformation over the past three years.""Let's hope this will help you avoid your aunt's, 'It works; I saw it on YouTube' remedy next Thanksgiving," ZDNet wrote.

RFK Jr./Hooker NEW book: Vax-Unvax. Order Now!
YouTube policies may 'violate civil rights'Claiming medical "information — and misinformation — continuously evolves," .